Gray Cabinetry – The New Neutral and Hottest trend in kitchens is on SALE!
15th Jul 2021
For homeowners looking to renovate their kitchens, Gray is the most preferred color of choice for kitchen cabinets. There are great ways to incorporate gray cabinets in your kitchen renovation plan without any speculation on the color's timelessness. Choose a backsplash with gray elements in it or opt for countertops that incorporate shades of gray. Both are less expensive finishes that will not sting your pockets. Gray color cabinets enjoy immense popularity and widespread impact on today's design trends.
Why Gray Kitchens?
Feeling of expectation: Gray cabinets build anticipation for other aspects of the kitchen – the countertop, the floor, the backsplash, the accessories, handles, and so on. In a way, gray color and different shades of gray allow other elements of the kitchen décor to stand out.
An aura of style and luxury: Enter a gray-themed kitchen and it gives you an aristocratic feel of you being in a high-end condo that reflects elegance and class. Gray offers a remarkable and ecstatic feeling of classic style and absolute luxury.
Relaxing yet exciting: Gray causes a deep sense of relaxation yet sparking excitement through its contrast with other nearby colors and textures.
Pairing gray cabinets with rich and lively colors of marble, quartz, and granite countertops are proving to be a look that many love. Combining these colors is a trendy look that continues to rise in popularity.
Gray Kitchen with Marble Countertops
A natural match for gray kitchen cabinets, marble countertops reflect durability and offer a look of a luxurious kitchen that is simply unmatched. For a traditional or transitional kitchen style, marble is a great way to go.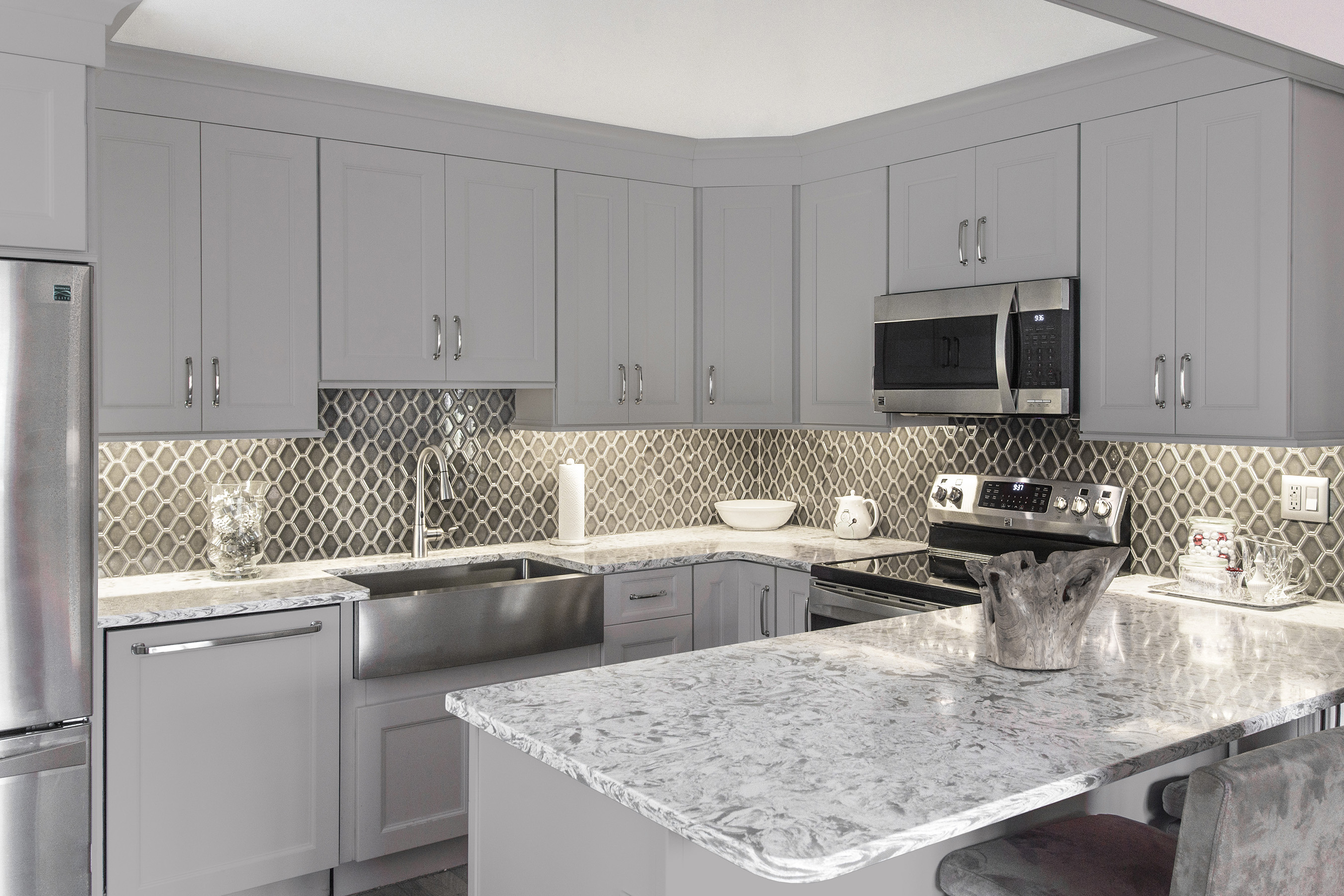 Gray Cabinets & White Countertops
For a fool-proof countertop option with maximum flexibility, white is the way to go. No matter your kitchen style or the shade of gray cabinetry you choose, a white countertop will always complement with gray kitchen cabinets. In terms of flexibility, there are several countertop types that are available in all white, from engineered quartz to durable laminates. You can choose a purely white slab. The combination of gray and white provides a perfect foundation for dressing up your kitchen to your liking. You can keep it simple by adding more gray and white tones, such as in the backsplash above, or you can add pops of color to bring the room to life.
Gray Kitchen & Black Countertops
Black countertops are another great option for pairing with your gray kitchen cabinets. Like white countertops, there are a number of different types of countertops available in black, including quartz, laminates, and even natural stones such as granite. You can again choose an all-black countertop or one with flecks of white, gray, or metallic elements. To prevent your kitchen from looking too dark, it should have ample natural lighting, as well as flooring and wall coloring in a contrasting tone such as white or light-colored wood.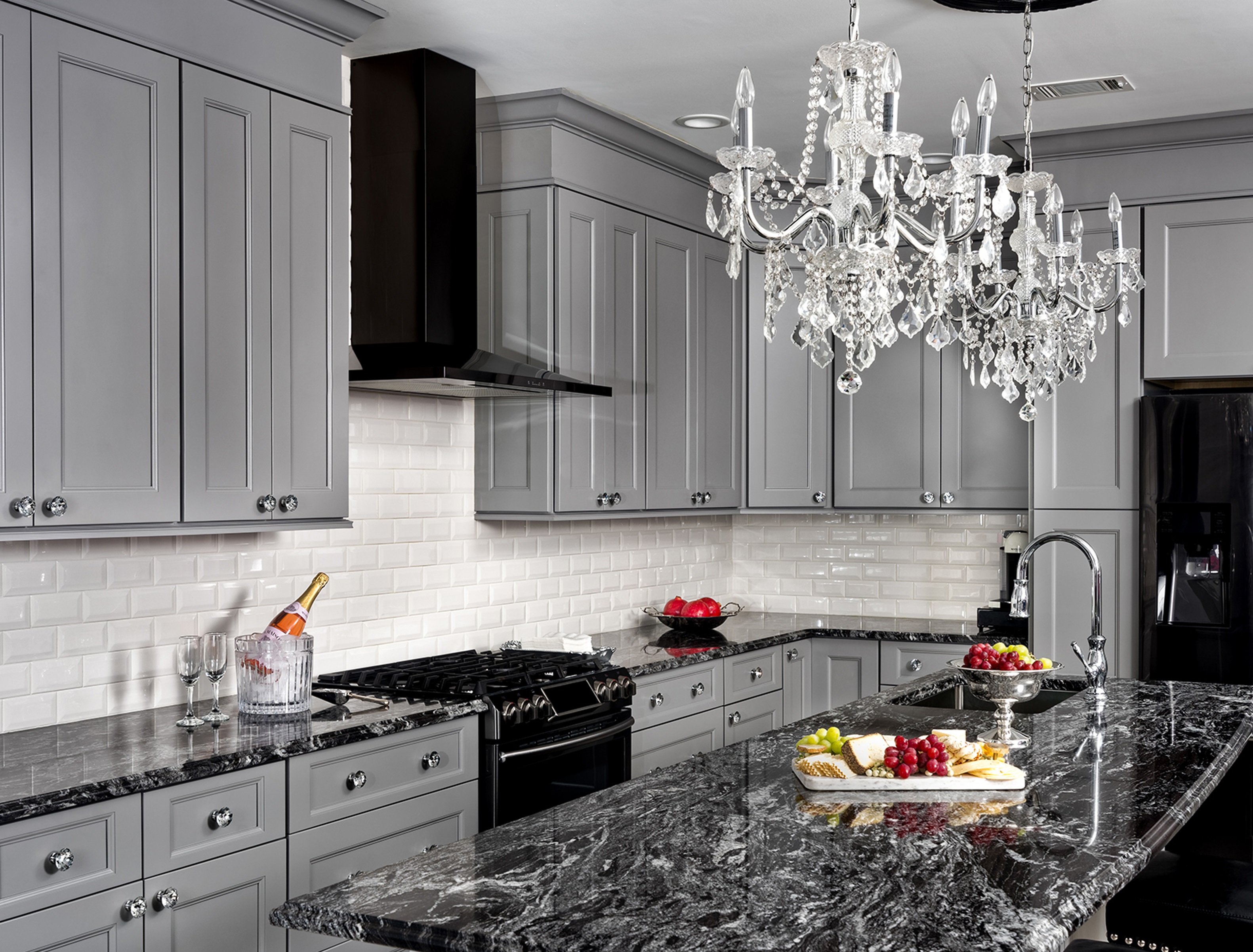 Gray Kitchen Cabinets & Granite Countertops
Granite countertops have reigned as one of the most popular choices for a reason. With superior durability and a wide variety of colors, it is hard to find a more versatile countertop option. No matter your kitchen style, you will easily find granite that will blend in well, even with gray kitchen cabinets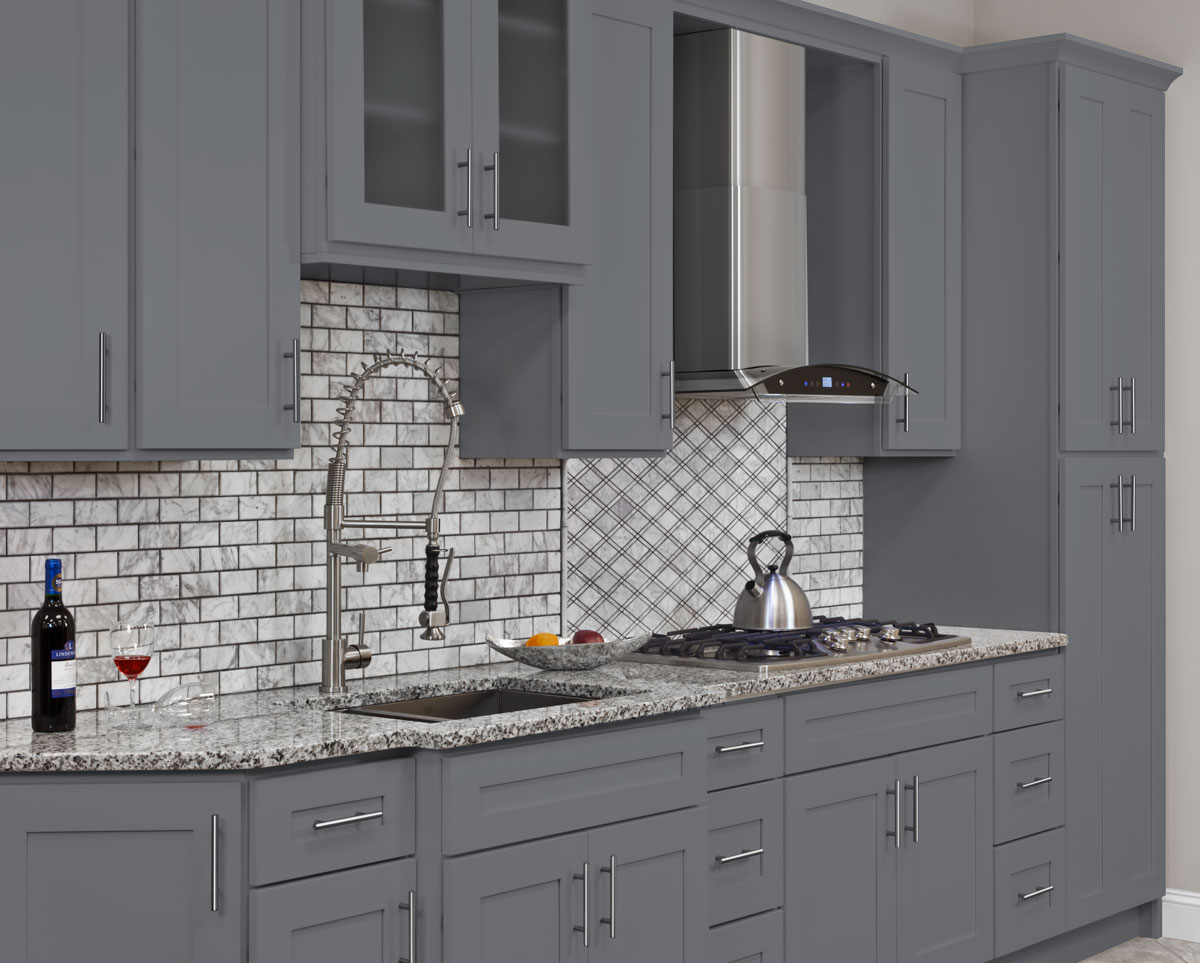 So make your best choice for a Gray Kitchen Cabinet and pair it with the right combination of the countertop, handles, and accessories. At Express Kitchens, get Free Kitchen Upgrades & Accessories with Free Kitchen Design: Huge savings up to $600 on your Brand-new Gray-colored cabinets this March.
Buy brand new kitchen cabinets of in-stock Star Cabinetry (Derry & Edinburgh)) and get FREE wall cabinet glass door upgrades, decorative hardware, in-stock custom drawer organizers, and 50% off the 2nd roll-out tray in each base cabinet. Easy financing options available in your dream kitchen. Book your new kitchen today: Click Here
Call: (860) 247-1000
Email: info@expresskitchens.com